The RoRo StretchPack® packaging machines are suitable for 6-sided packaging of insulation panels and boards of rigid foam, such as XPS, PIR, PUR and EPS.
It will enable you to optimize the packaging line by increasing the capacity while improving the packaging quality by providing 100% waterproof packaging.
The profitable alternative to heat shrink
Packaging of rigid foam insulation panels has for years been dominated by heat shrink packaging.
However, using a RoRo StretchPack® packaging machine you remove the heat shrink tunnel from your packaging line.
This not only removes the possible pains heat shrink causes (packaging quality, fire risk, cleaning, etc.), but it also reduces your operating costs significantly:
No energy costs for heat shrink system

No maintenance costs for the heat shrink system

No costs for fire insurance of heat shrink system

Reduced film cost due to reduced film
A RoRo StretchPack® packaging machine does not use any power during ramp-up and ramp-down. In comparison to heat shrink systems, this gives a significant energy saving. The energy consumption is approx. 0.03 kWh per pack.
Six-sided sealed packaging
With RoRo StretchPack® you will gain an improvement in your packaging quality:
Six-sided packaging (or four- and five-sided)

Dust and waterproof

Smooth and uniform with high repeatability

Optimal for print and branding

Improved load stability
This will add value to your packed insulation panels. They will be fully protected from the ingress of dirt and moisture, and the appearance of your products will be improved and uniformed.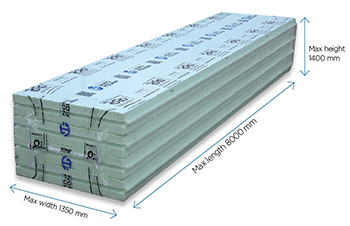 Increase packaging speed and capacity 
Horizontal stretch packaging is dedicated to fit into an efficient production line. This is suitable for the production of insulation boards which can take advantage of:
Reduction of film roll changes - film capacity up to 12 km
Automatic shift between different product and film sizes
No stop when running out of film (redundant system)
Minimal cleaning and maintenance
A RoRo StretchPack® installation requires less space than a heat shrink system. This frees up space on the production site.
Reduce your film consumption by up to 60%
Horizontal stretch hood packaging is a film saving solution compared to other packaging solution such as both wrapping and heat shrink packaging. We have seen reductions in film consumption between 25-60%, which also leads to a significant reduction of the film cost.