Watch the full Geosynthetic Packaging Machine Video by Tentoma about:
4 Ways to reduce PE plast film consumption
100% sealing of roll materials
Branding opportunities
Ease of machine Operation & Maintenance
Naue Geosynthetics Invest in RoRo StretchPack Machine
The leading manufacturer of geosynthetics in Germany called NAUE GmbH & Co. KG has invested in an XL-S2 machine from Tentoma A/S. The purpose of waterproof packaging for the high value geosynthetic rolls has been a key driver in choosing machinery from Tentoma.
Another driver was to implement a fully automated packaging process in an existing production set-up with limited floor space. The full RoRo StretchPack machine portfolio is characterized by occupying minimal space in the machine length direction. This makes it possible to integrate the machines in existing in-line and off-line packaging areas in an easy way.
NAUE – A RECORD OF INNOVATION:
NAUE GmbH & Co. KG has been part of the history of geosynthetics since the very beginning;
NAUE introduced the first nonwoven filter material for use in hydraulic engineering applications;
Those products are still fully meeting their designated purpose today – for example, on the embankments of the Mittelland Canal, the only East-West waterway in Northern Germany;
NAUE of today became an independent company in 1984 under the name of Naue Fasertechnik GmbH & Co. KG.;
Geosynthetics | Geomembrane | Geotextile
Product protection of rolls   
In this chapter you will see more examples on packaging of rolls. But first, let's look at some of the typical problems we experience that Geotextile manufacturers are struggling with today:
Seals on the length of the reels and on the ends are opening;
Water comes in the reel;
Film needs to be as slippery as possible on the outside for storage reasons;
Labels don't stick well on sides of reels, because of "folds" in the film;
Film tears when handling in stock situations;
Branding is not satisfactory;
How to solve Geosynthetics | Geomembrane | Geotextile packaging problems?
Here are some examples of what is possible to solve with the RoRo packaging technology. Watch these 4 examples:
Eye-to-Sky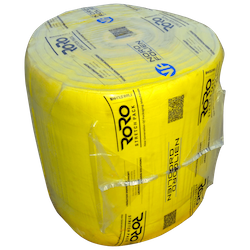 Example 1
Example 1 is from a customer in Spain that has requested to encapsulate 100% the product. The reason is that the cloth needs to maintain a controlled state of moisture level.
Note: Quite the opposite really of what is normally the task in packaging. With RoRo you can keep moisture in or out.
Example 2
Example 2 is not only to show a potential customer that the rolls are 100% tight but also to enable a test of:
Film has high enough tear and puncture resistance to withstand normal logistic handling of geotextile rolls
Insertion of plugs in the end while ensuring 100% tight packaging
Eye-to-Wall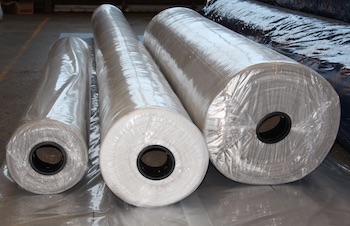 Example 3 – Close-up of a strong and controlled sealing!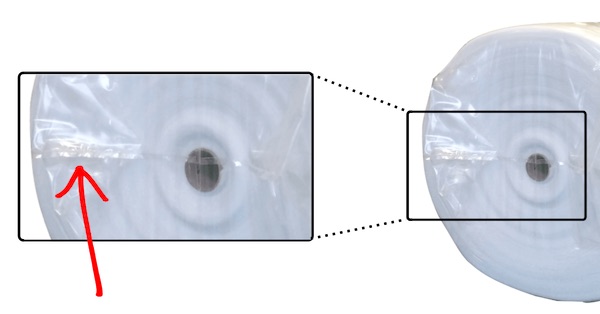 Eye-to-Wall
Example 4
Example 4 will show you that rolls can have up to 8 meter lengths. Watch This 40 Second packaging sequence of an automated geotextile packaging process.
Product Protection of Outdoor Stored Products   
Outdoor storage of products is a topic Tentoma is receiving positive feed-back since the high quality film material applied in RoRo machinery allows safe outdoor storage of up to 24 months.
The film can be specified with UV protection and UV blocking in order to protect the film and the goods.
Besides protecting the goods from moisture, contamination, dust and alike the film also has excellent capabilities in being a low-friction film. When products are stored tightly together (e.g. geotextile rolls) it is a requirement that the film doesn't get damaged when placing and removing the products.
Easy transport due to low friction between goods and thus no sticking 
Low friction film (COF < 0,2)
Lower friction between products makes handling easier (gliding)
Low friction film is a clear advantage in transport and storage handling when products are placed tightly together