Horizontal Pallet Packaging
The packaging industry hasn't shown major innovations in decades when it comes to resolving the problem of creating powerful containment forces on products or loads on pallets. This post is about how horizontal pallet packaging can change this with an innovative approach.
Learn in this post about how Tentoma got the challenge to demonstrate how RoRo StretchPack (leading horizontal packaging technology for large products) has solved the following problems known in the industry. First. Watch the video showing a simple and powerfull demonstration of how containment forces can change the pallet packaging industry.
Typical problems in pallet packaging
Lack of containment forces on all pallet types
Product damage or contamination, including rain or dust, during the logistic journey at the highest value state of the product
High supply chain costs occur due to high packaging costs, given with strappings incl. machine maintenance, packaging materials and number of packaging processes
The solution to pallet packaging problems
Horizontal pallet packaging with RoRo StretchPack® increases containment forces with downforces on the load by utilizing the elasticity of a stretched PE-film
Supply chain savings are achieved by reducing the amount of film e.g., compared to vertical stretch hood or pallet wrapping
Product contamination is eliminated because the loads get 100% sealed with a full 6-sided sealing
Handling during loading and unloading situations is less complex due to powerful contamination forces given by RoRo StretchPack®. This way of horizontal pallet packaging makes the products almost immune to external impacts from low lifters and forklifts
Horizontal pallet packaging (bricks) solution example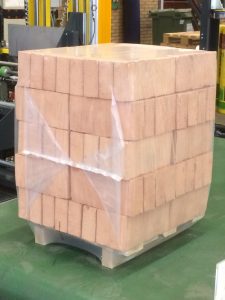 If looking to improve your pallet packaging process in order to achieve higher containment forces or load stability, then don't hesitate to contact sales@tentoma.com.
Maybe you already work with goods within heights of 1,4 meters and widths of 1,35 meters? Maybe you want us to look at your specific pallet packaging challenge. Also, please check out our YouTube videos showing that we are mainly all about packaging of large goods.