Nonwoven roll materials are used for many purposes like geotextiles, geosynthetics, personal protective equipment (PPE), hygiene products, wipes etc. In any case, it is essential to protect the nonwoven roll material against dirt and moisture before use or further processing.
Horizontal stretch hood packaging is perfect to seal and protect nonwoven rolls. Additionally, with the RoRo StretchPack® machinery, it is possible to fully automate the packaging process, while saving both film consumption and film cost.
Full sealing = full protection
Conventional ways of roll packaging, like wrapping or heat shrink, do not fully seal the rolls, and will typically leave a risk of water and dirt entering. A long sealing on the side of the roll is also prone to breakage during storage, transport and handling.
Utilizing horizontal stretch hood packaging, the tubular film will pack tight (tightness can be set) around the entire roll, and there will only be a short strong seal at the ends of the roll. This ensures a complete sealed packaging which is 100% waterproof.
RoRo StretchPack® machine will increase the quality of your packaging by:
Complete dust and waterproof packaging
Only short sealings at the ends of the roll
Smooth and uniform rolls (not sticky)
Optimal surface for print and branding
Plug in the ends of the roll as an option
Rolls can be packed either "eye-to-sky" or "eye-to-wall".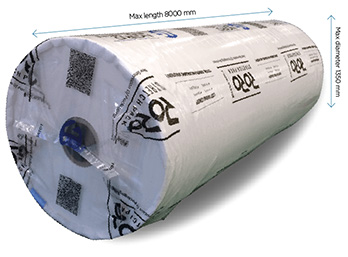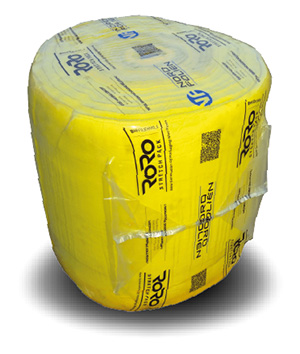 Automate packaging and free up labour
Nonwoven rolls can be both long, large in diameter, and heavy to handle. By using a RoRo StretchPack® machine you can automate your packaging process completely. The packaging is done in one automated operation and is developed to give you a high packaging speed, with a high up-time:
Large film capacity reduces film roll changes
Fast change of film roll (max. 5 minutes)
Automatic shift between different film and roll sizes
Minimal cleaning and maintenance
Packaging of both batch and random order possible
Easy handling and storage
The tight packaging and smooth surface of the film make the roll slippery and easy to handle without damage. The strong sealing also ensures that you can stack up rolls outdoor without the risk of penetration of water.
If you handle your rolls with a forklift and a carpet pole you can also install a plug applicator. This will automatically install a plug in the end of the roll after packaging.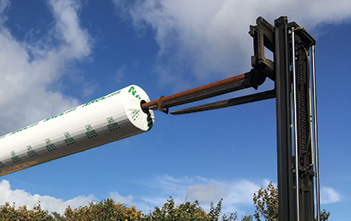 Reduce your film consumption by up to 60%
Horizontal stretch hood packaging is a film saving solution compared to other packaging solution such as both wrapping and heat shrink packaging. We have seen reductions in film consumption between 25-60%, which also leads to a significant reduction of the film cost.