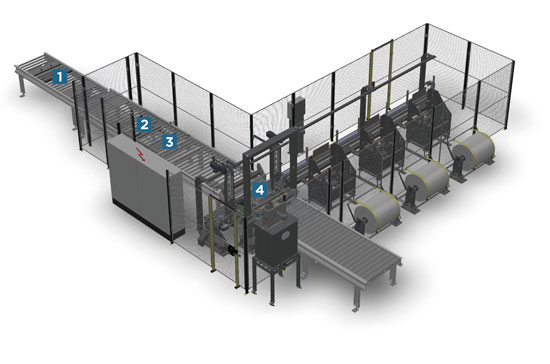 Tentoma has now introduced a full RoRo StretchPack® packaging line for 6-sided sealed door packaging. The new packaging line includes the following functionalities dedicated to the door manufacturing industry:
The door is lifted for mounting corner protection
The door is centred on the infeed conveyor
The door size is measured (width x height)
The door is packed and sealed in one operation
Using RoRo StretchPack®, the door is packed in a tubular stretch film. It provides a 6-sided packaging, with a short 100% waterproof sealing in each end. It protects the door against the penetration of dirt and moisture during storage and transportation.
"We have seen more door manufacturers shifting to use RoRo StretchPack® for packaging," Jane Tønder says. She is Head of Sales at Tentoma, who has developed the RoRo StretchPack® technology. She continues:" That is the reason why we have developed this complete packaging line  to the door manufacturing industry. It can be installed as a standalone solution or as an inline solution in a fully automated production line. The final configuration will of course always be based on customers' requirements".